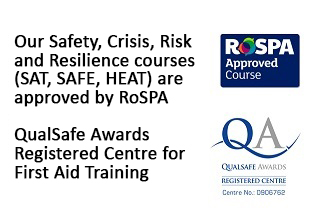 2019 HEAT Courses
22 - 26 April
20 - 24 May
Our RoSPA-approved SAFE and HEAT courses run concurrently over 5 days: the first 3 days are for SAFE training, and the subsequent 2 days upgrade the training to HEAT.
Our Training Courses
The GroundTruth team has a great deal of experience of working with people from different walks of life and diverse cultures. To be universally relevant we believe in engaging people on a personal level. Positive reinforcement and ongoing, individually tailored, feedback is at the heart of the coaching style we use to achieve this.
Our approach is successful. The outcome is a proven ability to overcome resistance to new ideas and skills and bring mutual understanding to diverse individuals.
Personal Development in Group Learning Environments
People have different learning styles, different aptitudes, and different personalities and preferences.  At GroundTruth we understand this. It fundamentally shapes our approach to training. Our team's ability to 'read' individuals' learning requirements allows us to deliver personalised development within group learning environments.
Accelerated Learning and Layering
Our experiential training is delivered in layers, each one building on those that went before. This method is proven to be the fastest and most effective way to accumulate skills and to retain them. We use psychology applicable to the nature of current fragile environments with accelerated learning techniques, and NLP, to ensure that even when individuals are under considerable stress they are able to access their training and make good decisions.
Honest, Accepting and Safe
Our feedback and views are honest. We understand that tackling sometimes sensitive issues requires the right balance of tact, understanding and challenge. This understanding underpins our team's care for the physical, mental, emotional and spiritual well-being of those who attend our courses.
Different, Flexible and Fun
The feedback we receive confirms that we have created a training style that feels different from the outset. We make things challenging yet fun. We encourage people to experiment and 'play' with concepts that are new to them. These, coupled with an approach which accounts for all learning styles, means people enjoy learning with us.
Safety and Security Training
GroundTruth offers three tiers of Safety and Security training to suit all contexts and environments. In addition, we can supply on-demand bespoke security training at short notice for individuals and teams deploying to crisis areas.
Tier 1 - Security Awareness in Fragile Environments (SAT)
A one day course for people travelling or deploying to countries, regions or cities that are considered to have a crime level and/or terrorist threat that is over and above that which would be expected in any Western European capital.
Tier 2 - Security Awareness in Fragile Environments (SAFE)
A 3 day course for those individuals deploying to countries, regions or cities that are considered to be crime-hot and/or with a significant terrorist threat (e.g. Mexico City, Guatemala, Kinshasa, Khartoum, and Nairobi)
Tier 3 - Hostile Environment Awareness Training (HEAT)
A 5 day course for those deploying to countries, regions or cities that are considered to be conflict-hot and/or with a high terrorist threat (e.g. Afghanistan, Syria, Somalia, Pakistan or Yemen as examples).
Course Comparison
Course Content
Tier 1 SAT
Tier 2 SAFE
Tier 3 HEAT
Threat & Risk (Dynamic Risk Assessment)
+
+
+
Deployment Planning
+
+
+
Situational Awareness
+
+
+
Surveillance Awareness
 
+
+
Personal Safety and Security
+
+
+
Public Places and Building Security
+
+
+
Health & Well Being
 
+
+
Incident: Prevention and Reaction
 
+
+
Interpersonal Skills and conflict Management
 
+
+
Travel & vehicle safety
+
+
+
Crowds & Civil Unrest
+
+
+

Loss of Liberty

(Kidnap, Hostage and Detention survival)

 
+
+
Working with Close Protection
 
 
+
Security & Communications
 
 
+

Battlefield Awareness

(ERW, IEDs, IDF, SAF)

 
 
+
First Aid
0 Hours
12 Hours
18 Hours
GroundTruth's First Aid courses combine both hands-on and scenario-based training that covers basic first aid through to blast injuries, fracture treatment, treatment of spinal injuries and treatment of illnesses common in hot and cold climates. Our training methods transfer skills effectively, developing participants' confidence to be able to administer treatment and save lives in remote areas.
We provide a tiered approach that matches first aid skills to the appropriate environment:
Tier 1 – Emergency First Aid at Work (EFAW)
For Urban or Peri-urban deployments where immediate definitive care facilities are available. A one day course with 8 hours of training content
Tier 2 - First Aid at Work (FAW)
For deployments with controlled evacuation procedures in place where definitive care facilities are within 1hr. A two day course with 12 hours of training content.
Tier 3 - First Response Emergency Care (FREC 3)
For deployments to hostile and remote environments where definitive care facilities are more than 1 hour away or where self-evacuation may be required. A 2.5 day course with 18 hours of training content.
Course Comparison
| | | | |
| --- | --- | --- | --- |
| Course Content | Tier 1 – EFAW | Tier 2 – FAW | Tier 3  – FREC 3 |
| Chain of life first aid priorities | + | + | + |
| Incident management | + | + | + |
| DRC1ABC | + | + | + |
| Recovery position | + | + | + |
| Resuscitation | + | + | + |
| AED | + | + | + |
| First Aid Kits | + | + | + |
| Control Bleeding | + | + | + |
| Burns | + | + | + |
| Fractures | + | + | + |
| Effects of hot and cold environments | + | + | + |
| Common illnesses and conditions | + | + | + |
| Casualty Evacuation | + | + | + |
| Skill Assessment | + | + | + |
| Trauma |   | + | + |
| Sterile Kits |   |   | + |
| SAF, IDF, Blasts and Explosion |   |   | + |
| RTC Drills |   |   | + |