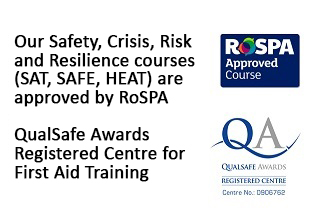 2019 HEAT Courses
22 - 26 April
20 - 24 May
Our RoSPA-approved SAFE and HEAT courses run concurrently over 5 days: the first 3 days are for SAFE training, and the subsequent 2 days upgrade the training to HEAT.
For prices and availability, please email us using the form below and we will be in touch very soon with further details.
Booking enquiries
We operate a 'first come, first served' booking system
We aim for a class size of 10 -15 participants
Organisations may block-book course places but these must be confirmed one month before the course
Cancellations made less than 7 days prior to a course will be charged at the full rate. No-shows on the day will be charged for (except in exceptional circumstances)
Course places are 100% transferable
Courses that are significantly undersubscribed may be cancelled – we will give you at least 7 days' advance notice of this.