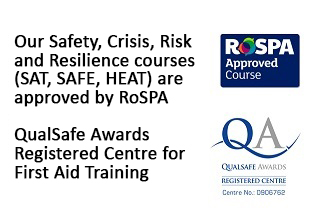 GroundTruth Consulting Ltd provides training and consultancy for dynamic, fragile, hostile and crisis environments globally.
Who We Are
GroundTruth specialise in training teams and individuals for high-level performance in dynamic, fragile, hostile and crisis environments worldwide. Our track record in preparing organisations and individuals speaks for itself, with the successful inception and delivery of hundreds of complex projects around the globe.
Current clients include international organisations, government agencies and corporate bodies, all of whom are deeply committed to the care and security of their employees.
A commitment to people underpins all of our work.
At our core is a team of expert consultants and practitioner-trainers who have unparalleled real-life experience of recent and current events around the globe. Their knowledge of today's dynamic, fragile and crisis environments ensures that our training and consulting is directly relevant to events on the ground – 'groundtruthed', in fact.
With a wealth of global experience drawn from crisis management, humanitarian, international development, military, emergency services, security, medical, business and accelerated learning backgrounds, all our personnel are also highly qualified in their fields. They bring deep knowledge, hard-won experience and training expertise to our clients, so our solutions are adaptive, real, flexible and relevant; our solutions work and are an exact match for your needs.
Award in Education Level 3 or PTLLS Qualifications
Qualified Pyrotechnic Specialists
Qualified Critical Incident stress Management Practitioners
Qualified Executive Coaches
Qualified Neuro-Linguistic Programming Practitioners (NLP)

Qualified Psychometric Practitioners
Qualified Fire Awareness Trainers
Qualified Surveillance Experts
Qualified Mine Awareness Experts
Qualified Close Protection Experts
In addition, for all projects, our commitment to manage risk, deliver predictable costs and manage resources is second to none
Our Values
Professional integrity – honesty with you, honesty with ourselves
Passion – for what we do and who you are
Reliability – we strive to deliver quality products on time
Quality – effective execution, smarter solutions, professionally delivered
Focus – identifying the key areas of influence in your work, with a determined follow-through to make a positive impact
Walking the talk – only delivering expertise gained through first-hand experience of the truth on the ground.
What We Offer
We offer a range of consultancy services and training courses that are tailored to our client's needs. All our services are available bespoke to your requirements.
We consult on all aspects of crisis and risk management, duty of care, leadership and team development for dynamic, fragile and hostile environments. Our knowledge of the cultural, political and military situations across a range of regions and contexts is unique. This, augmented by practical knowledge from the ground and an extensive network of regional contacts ensures our consultancy is highly relevant to our clients' operations in today's uncertain world.
Our training programmes are experiential in nature and focus on 'learning by doing'. Most of our training is 'in-scenario', creating great realism. Immediately after each simulation we 'hot-review' the participant's performance. This ensures they have the maximum opportunity to absorb and retain what they learn, so that 'at-speed' decision making becomes more intuitive and more immediate. There is a world of difference between knowing what to do when you have time on your hands and actually doing it in the heat of the moment.
Training

Safety and Security Training
Crisis Management Training
Team Leadership, Personal Development and Negotiation Training
First Aid Training
Driver Training
Gap Year/ Lone Traveller Safety Training

Consultancy

Assessment and Selection
Risk Management Consultancy
Crisis Management Consultancy
Operational Consultancy